Country of rigor and luxury: 8 myths about life in the United Arab Emirates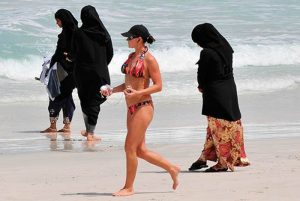 Most of us are accustomed to think of the United Arab Emirates as a country where gold surrounds everyone everywhere, and the rules of behavior are strictly regulated. However, not all is gold that glitters, and even the UAE has stereotypes that do not quite correspond to reality.
1. Alcohol in the UAE
The overwhelming majority of the indigenous people of the United Arab Emirates are Sunni Muslims and strictly follow Sharia law, where it is written in black and white that alcohol is a sin and an abomination. It is not surprising that in this country the chance to meet an Arab drinking alcohol in broad daylight is almost zero. Based on this, tourists had the impression that there are no bars or good parties in the whole country.
But do not forget that the United Arab Emirates is an open and rather popular tourist destination, which means that the country is visited annually by hundreds of thousands of people of various religions, and the authorities are doing everything to make their holidays comfortable. Accordingly, all those who do not profess Islam can easily drink drinks at the hotel's bar, skip a couple of piles at a nightclub, go to the liquor stores and Duty Free. However, it is worth knowing that drinking alcohol in public places and on the beaches is strictly prohibited, and returning home from the bar under the bar, you should use a taxi in order not to attract the attention of non-drinking Arabs.
2. Dress code
Some tourists seriously believe that upon arrival in the UAE they will have to carefully select clothes, trying to comply with the strict laws of this Muslim state. It is a myth. Despite the fact that most Arabs constantly wear konduras and abai, there are no bans about clothes in the country. Moreover, many men during the daytime prefer to wear familiar European clothes, and in the evening to dress in traditional ones. As for women, designer dresses, jeans and a lot of gold jewelry are often hidden under a long abay.
So, having come to one of the emirates as a tourist, you can wear any clothes, including short dresses, shorts and tops. Nobody will fine you and will not arrest you. The only taboos are bare-chested men and swimsuits outside the beach. And of course, you need to adhere to the dress code, if you want to visit the religious places of the country.
3. Sky-high prices.
Many people, gathering in the United Arab Emirates, paint themselves the image of a "golden" country, where everyone basks in luxury and does not count money. In fact, it only seems so. In the Emirates, as well as everywhere, there are very rich and poor people, and accordingly in the outlets goods are presented for every wallet.
According to Novate.ru, the Oriental Bazaar is the first place to go for budget shopping. There you can find jeans for $ 10, and if you have a good deal, pay half as much. While in Sharjah, be sure to visit the Gift Market chain of stores. There you can find almost everything – from souvenirs to shoes and cosmetics for up to 1000 rubles. Do not forget about the large shopping centers, in the period of sales prices in them are reduced by two or even three times. In addition, there is also a bargain.
4. The manifestation of feelings
The United Arab Emirates is a vivid example of absolute monarchy. This form of government, plus strict Sharia law, contributes to the fact that, in the eyes of tourists, this country consists only of prohibitions. According to tourists, none of the seven emirates can not openly kiss, hug, laugh out loud and talk. In fact, officially there are no prohibitions, there are just standards of decency and Muslim education.
Another misconception – a ban on talking with Arab women. Flirt with them is definitely not worth it, but you can ask for help. Especially when it comes to young modern women. They are most often dressed in tunics, jeans and hijabs.
5. Delicious food
Eastern sweets, fruits, spices, herbs, the best oils, juicy meat, fish … It would seem that in the UAE there is everything to get a gastronomic orgasm. However, European cuisine leaves its mark on the Emirates. Street food and popular fast food chains are gradually crowding out restaurants of national cuisine. According to Novate.ru, in recent years, more and more people choose street food to save money.